Assistive technology (AT) is any item, piece of equipment, or product that is used to increase, maintain, or improve functional capabilities for someone with a disability or long-term health condition.
In other words, AT devices make everyday work and life easier, and make impossible tasks possible.
Agricultural modifications may vary depending on the type of disability and farm operation. Many solutions exist, including manufactured or modified devices and structures, or modified work practices.
Examples:
Larger, slip-resistant steps to help access a tractor
Ergonomic seats to provide back support
Use of feed carts instead of wheelbarrows in feeding operations
Hitching systems designed to reduce the number of times on and o equipment
Mobility aides such as action trackchairs, utility vehicles, and all-terrain vehicles
Modifying equipment with hand controls or visual and hearing impairment aids
The photos below are examples of Assistive Technology around the farm.
Looking for more ideas? Contact us and check out The Toolbox by the National AgrAbility Project.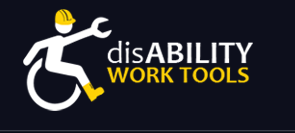 Disability WorkTools is another great resource. They develop and distribute tools and equipment to help people work on the job and around the home with less pain and physical demands. Specific attention is devoted to aging workers and those with disabilities who want to adapt their equipment or businesses and continue "hands-on" activities.
Each year, AgrAbility PA works with dairy farmers throughout the...

Read more

The year was 1840: Martin Van Buren was president of...

Read more
It was a busy day in Washington, D.C., on Thursday,...

Read more

Installing a tractor door opener makes for easier and safer...

Read more
If April showers bring May flowers, then we are already...

Read more

The birth of a healthy new calf on the farm...

Read more