Mar
19
Mon
AgrAbility National Training Workshop (NTW)

@ Westin Portland Harborview
Join us March 19 - 22, 2018 in Portland, Maine for the 2018 AgrAbility National Training Workshop, the premier training event addressing issues of disability in agriculture.
People from all over the country will participate in four days of plenary sessions, breakouts, tours, networking, and special events.
The AgrAbility National Training Workshop (NTW) is the foremost educational event addressing issues related to disability in agriculture. The mission of the NTW is to empower professionals and consumers to fulfill AgrAbility's main priority areas:
Education: The NTW builds service capacity for professionals and provides relevant, practical knowledge to consumers through a variety of means, including keynote sessions, plenary sessions, breakout sessions, tours, and new staff training
Networking: The NTW enables networking among AgrAbility staff members and stakeholders to help leverage resources to fulfill the AgrAbility mission. Venues for networking include informal information sharing, structured networking sessions (e.g. standing committees and communities of interest), and exposure to new/potential stakeholders through sessions and exhibits
Assistance: The NTW trains AgrAbility staff members in best practices for providing direct assistance to AgrAbility customers. Participation by customers also enhances their ability to remain actively engaged in agriculture-related work
Marketing: The NTW provides AgrAbility staff members with training and resources to communicate the AgrAbility mission through sessions specifically focused on marketing and via informal learning from marketing materials or techniques used in exhibits
Audiences for the NTW include:
AgrAbility staff members
AgrAbility customers and their families
AgrAbility stakeholders
USDA professionals
Rehabilitation professionals
Other nonprofit professionals
Suppliers of products useful to AgrAbility customers
Apr
26
Thu
AgrAbility PA Advisory Board Meeting

@ Penn State Visitors Center
Apr 26 @ 10:00 am – 2:00 pm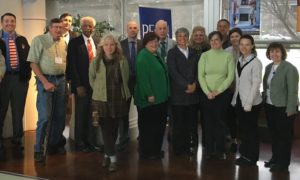 AgrAbility PA will hold its annual Advisory Board Meeting on Thursday, April 26, 2018. The meeting will take place at the Penn State Visitors Center.
The Advisory Board consists of faculty, agriculture teachers, vocational rehabilitation specialists, farmers, assistive technology specialists and financial counselors, and other partners. The Board offers critical oversight and input on the project.
Aug
14
Tue
Ag Progress Days

@ Russell E. Larson Agricultural Research Center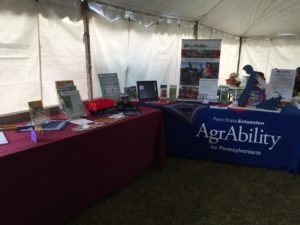 Ag Progress Days (APD), Pennsylvania's largest outdoor agricultural exposition to be held August 14-16, 2018. The show is held annually, for three days in August, at the Russell E. Larson Agricultural Research Center (Pennsylvania State University's Research Farms).
Staff members from AgrAbility PA will be present to share information and resources with farmers and agricultural workers on how to remain in farming despite a disability or long-term health condition. Visitors to the AgrAbility PA booth will also be able to see examples of adaptive equipment, assistive technologies, and other modifications that make working around the farm more accessible.